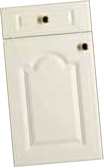 We have a large range of kitchen doors and kitchen worktops supplied by any manufacturer; this can only be successfully applied, if at the initial stage the advice you are given is sound and based on years of experience in the fitted kitchen design market. That's where Kitchen Makeovers Lancs in Preston will not only help you with a planning design but also offer expert advice.
The initial consultation is a joint venture to explore the possibilities for your Kitchen Makeover.
We will advise what can and can't be achieved in your existing fitted kitchen; we will help with design of the doors and worktops and to use any accessories that would help in everyday tasks.
We carry a range of sample doors and worktops to enable you to see the actual quality and visual effect of the ideas you are discussing.
When a basic concept has been agreed we will then draft a detailed costing in relation to idea . When you are happy with our proposals then we will develop a full plan (working drawings) and visual , where required, for your final approval. Following that stage we will go over the final arrangements for the fitting of your kitchen Makeover.
We also fit matching side-panels to make your fitted kitchen co-ordinate.